Pulleys are critical and important components of power transmission. It helps to transfer the power. We offer a variety of pulleys like v-belt driven pulleys, taper lock pulleys, taper lock bushing, timing belt pulleys etc.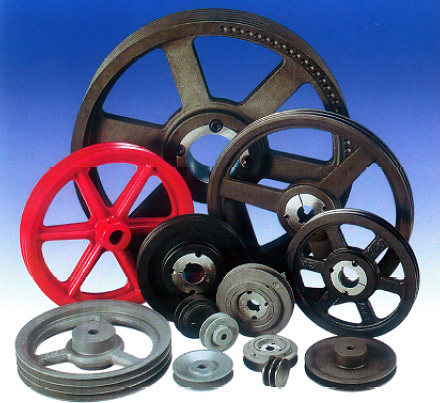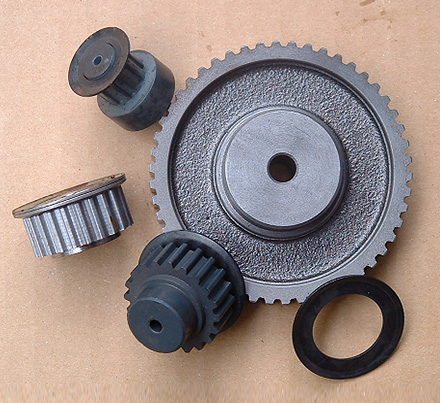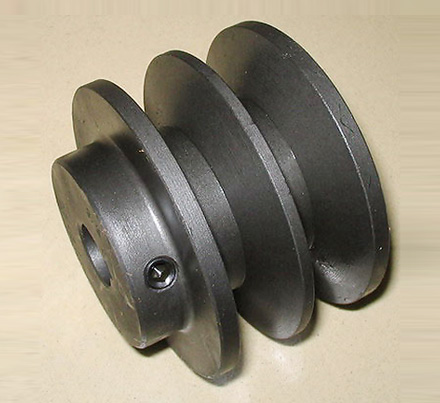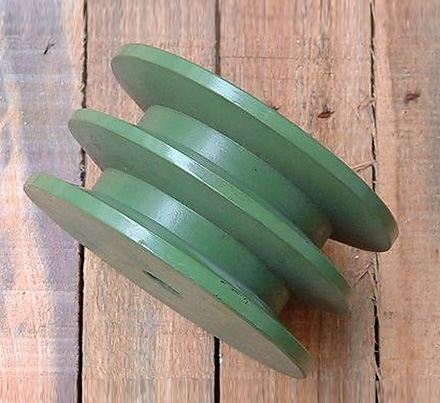 Conventional V-Pulley
For Classical or Conventional V-Belts
Conventional V-Pulleys are available in all groove sizes from 1, 2, 3, 4, 5, 6, 7, 8, 9, 10, 11, 12 grooves, small and large bores both lightweight and heavy duty for multiple industrial applications.
Characteristics
High tolerance
High tensile strength
Optimum performance
Heavy load support
Reduced wearing
Applications
Widely used in all industrial segments like construction and logistics
Types
M, A, B, C, D
Material: Cast Iron
Size Designation
4.5 x C2

4.5 - Outer Diameter (in inch)
C - For Profile C Belt Type / Groove Profile
2 - No. of Grooves
DimensionsRefer to Catalogue Download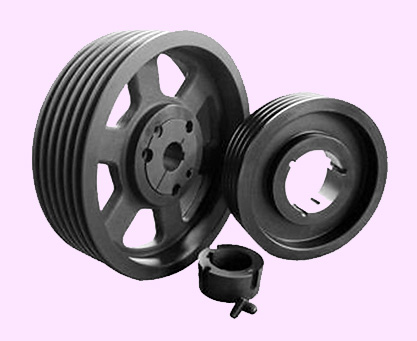 Taper Lock Pulley & Bush
For Narrow / Wedge V-Belts
These Taper Lock Pulleys are suitable for all kinds of power transmission installation of different sizes by using taper lock bushings of different types, in conformance with the needs of the customers.
Characteristics
Easy to operate and maintain
Consistent performance
Wear and tear resistant
Durable and high temperature resistant
Applications
Mainly used in transmission systems, these pulleys find application in a number of diverse industries
Types
SPZ, SPA, SPB, SPC
Material: Cast Iron
SPZ-1-160

SPZ - For SPZ Belt Type / Groove Profile
1 - No. of Groove
160 - Pitch Diameter (mm)
1008-11MM or 1008-1"

1008 - Bush Number
11 - Bore Size (mm) 1 - Bore Size (inch)
DimensionsRefer to Catalogue Download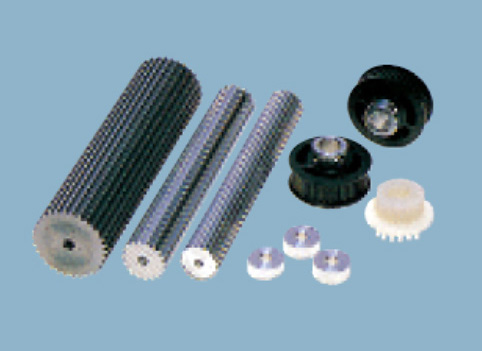 Timing Pulley
For Industrial Timing Belt
Efficient power transmission by timing belt can only be attained by smooth engagement between a high precision belt and accurately machined pulleys.
Characteristics
Provide accurate, positive engagement for power transmission
Optional requirements in material, shape and finishing are available on request
Applications
Printers, Tooling machines, Textile machinery, Industrial robots
Types
Round tooth type / Super torque timing pulley : S2M, S3M, S4.5M, S5M, S8M, S14M
ISO involute tooth / Classical timing pulley: MXL, XL, L, H
Trapezoid tooth / Metric type timing pulley: T5, T10
Material: Stainless Steel, Aluminium, Mild Steel
Size Designation
Round tooth type / Super torque timing pulley
P 28 S5M 0100 B

P - Pulley
28 - No. of Pulley Teeth
S5M - Belt Type
0100 - Pulley Width Code [Belt Width (mm) x 10]
B - Pulley Type
ISO involute tooth timing pulley
38 XL 037 B

38 - No. of Pulley Teeth
XL - Belt Type
037 - Belt Width (inch x 100)
(Note: belt width is in mm for MXL type)
B - Pulley Type Form
Add "P" in front of the product code for MXL type (e.g. P26MXL6.4B)
Trapezoid tooth / Metric type timing pulley
P T10 - 15 - 12

P - Pulley
T10 - Belt Type
15 - Total Width of Belt Pulley
12 - No. of Pulley Teeth
DimensionsRefer to Catalogue Download
Types
Square tooth type / Super torque timing pulley: S2M, S3M, S4.5M, S5M, S8M, S14M
ISO involute tooth / Classical timing pulley: MXL, XL, L, H, XH, XXH
Trapezoid tooth / Metric type timing pulley: T2.5, T5, T10, T20, AT5, AT10
Round tooth type / High torque timing pulley: 3M, 5M, 8M, 14M, 20M
Material: Stainless Steel, Aluminium, Mild Steel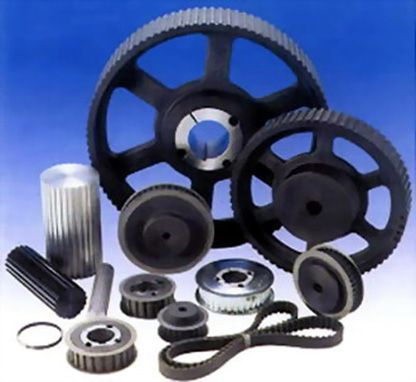 Size Designation
ISO involute tooth / Classical timing pulley
40 XH 300 F

40 - No. of Pulley Teeth
XH - Pitch Code
300 - Belt Width (inch x 100)
F - Flange
Trapezoid tooth / Metric type timing pulley
27 - T5 - 10F

27 - Total Width of Belt Pulley
T5 - Pitch Code
10 - No. of Pulley Teeth
F - Flange
Round tooth type / High torque timing pulley
30 - 8M - 30F

30 - No. of Pulley Teeth
8M - Pitch Code
30 - Belt Width (mm)
F - Flange
Dimensions Refer to Catalogue Download